Web Contents
The e-Repair Service, a web-based repair information service of NEC Telenetworx, allows customers to follow-up the status of their repair orders. Repair order statuses and past order histories can be traced from the repair information database.

To follow the repair status of a faulty unit, please enter unit name or serial number on the corresponding field. Detailed inforamtion is provided by "Advanced Search". Search results could be saved in csv format.

e-Repair service provides customers' fully information of the repair equipment status.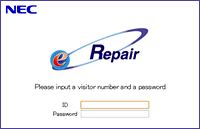 e-Repair Service provides the following information:
Articles repair progress
Repair articles expected return date
Repair contents report
Previous repair information
Repair Status
Shows up-to-date repair statuses. Repairs being sorted according to control number, date received, customer name, MRA/MS number, device name, unit name, EXGO date and FOB date.
Information can be downloaded in csv format by clicking "File out".
Repair Information Details
By clicking a control number link from the control number column, the repair information details of that particular control number will be shown. Here, more detailed status tracking information can be found.
Search
For search categorization, clicking a control number, reception date, device name, unit name, unit code or serial number, items under relevant category are shown.
By clicking items, customer could be directed to repair status window.
Advanced Search
To manually enter information related to search categories of control number, MR/MS number, customer, device name, unit name, serial number, status and date received.
Help
Shows different stage in the repair process, from item reception to completion and export.
Each stage corresponds to a entry in the "status" column. Customer can follow the repair process completely.
E-mail
Sends an e-mail message to the TeleNetworx repair center, using the default e-mail client of your PC.