---
Overview
What is Windows Server 2008 Hyper-V?
Hyper-V is the virtualization software which is provided with Microsoft Windows Server 2008. Deploying Hyper-V is easy because it comes with the operating system. Another advantage of Hyper-V is that it can be used with the wide range of hardware which supports Windows Server 2008.
Guest operating system licenses come with the OS as standard
Because the Windows Server 2008 Hyper-V software is provided as part of the operating system, you have a virtual server infrastructure just by buying the operating system. In addition, guest operating systems can be used without any additional cost*. Windows Server Standard Edition comes with one guest operating system license, and the Enterprise Edition comes with four.

* The number of guest operating systems that can be used depends on the edition.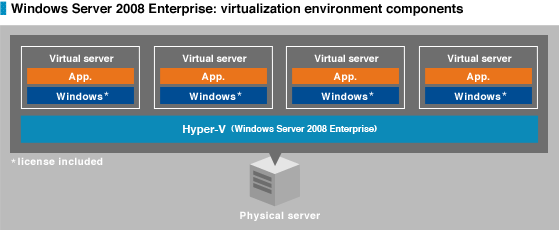 Use of a safe microkernel-type hypervisor
Hyper-V uses a microkernel that does not include device drivers in the hypervisor layer. The simplified hypervisor layer increases security and reliability.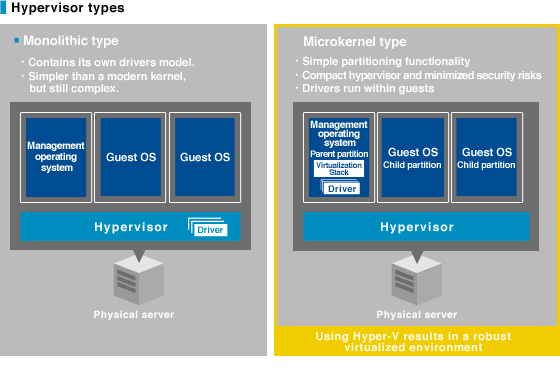 Increasing virtual environment availability with Quick Migration
Using Hyper-V Quick Migration at planned times ensures business continuity because a virtual server can be migrated to a different physical server with just a few seconds to a few minutes of downtime, while maintaining the operating status.

Note Live Migration, which enables server migration with no downtime, is supported by Windows Server 2008 R2.
Important notes on deploying Hyper-V
TIPS― Find your best virtualization solution using Hyper-V
NEC offers recommended systems that are pre-configured. You can get a quick start of using Hyper-V, even if you have never virtualized servers before.
Note which guest operating systems are supported.
For Hyper-V, support for operating systems other than Windows is limited, so check whether operating systems you plan to consolidate are supported before making any major decisions.
---
Partnership
Partnership between NEC and Microsoft
Product knowledge and technical expertise
Based on the experience it has acquired while developing and deploying virtualization products, NEC provides feedback to Microsoft on specifications and the development roadmap of Hyper-V.
NEC cooperates in reviewing product specifications beginning with the earliest development planning stage and validates products throughout the development cycle. Thus NEC acquires the necessary technical skills and knowledge of Hyper-V.
System Integration and support capabilities
NEC employs more Hyper-V Microsoft Certified Professionals than any other company in Japan (as of September 8, 2009).
Evaluation and validation system
NEC Redmond Technology Center, located near Microsoft's headquarters, cooperates with Microsoft to evaluate and validate Hyper-V.
NEC communicates with the Microsoft development team on a daily basis.
NEC server products are set up in Microsoft development laboratories in the United States and are regularly used to evaluate Hyper-V and improve product quality.