---
Overview
The ultra slim rack server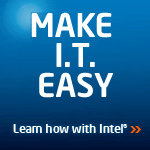 NEC Express5800/R120b-1 is a dual-socket ultra-dense 1U rack server combining outstanding performance, reliability and powerful remote management for space constrained environments.

NEC Express5800/R120b-1 is an ultra-thin Intel-based server featuring latest technologies such as new 32m Intel Xeon Dual/Quad/Six-Core processors (5600 series) and new LSI RoC RAID technology. It is equipped in standard with a new "One Touch" sliding rail kit an optional cable arm that provides quick installation and very easy maintenance.

This 1U DP rack server is an excellent choice to help customers increase server performance, improve density and reliability, optimize energy consumption and simplify server maintenance.
Designed for
Medium businesses with rack environment,
Corporate data centers
Remote branch offices
Internet Service Providers & Application Service Providers
Benefits from the latest Technology enhancements:
Support for latest 32nm Dual/Quad/Six core Intel® Xeon® CPUs
New « One Touch » mounting rails and cable arm
New powerful RAID solution
Integrated remote management based on web browser with standard KVM over IP and remote media features
80+ power supply and embedded Power Control Technology
The perfect solution to house front-end applications such as:
Proxy, firewall, VPN
Load balancing and cache servers,
Network infrastructure (web, messaging, …),
Clusters
HPC Applications.

---
Key benefits
Consolidation server: dedicated to virtualization
Thanks to its exceptional performance and virtualization capacities (VMware®, Citrix® or Microsoft®), NEC Express5800/R120b-1 is a solution optimized for installing, deploying, and managing multiple applications on the same platform more quickly.

This leads to :
energy savings,
optimized hardware costs
reduced maintenance cost.
The new NEC Express5800/R120b-1 server offers maximum performance with more virtual machines per server than its predecessor, thanks to new technologies such as :
Intel® Xeon® series 5600 processors with hypervisors ,
double the memory capacity
the number of integrated I/O slots has been increased. There is now 4.4 times more bandwidth than in the previous generation.

High density and reliability
The NEC Express5800/R120b-1 is the perfect solution to the current and future needs of expanding businesses and offers:
Double the storage and memory capacity compared to the previous generation server (R120a-1): supports up to six 2.5'' SAS 600GB disk drives. These also give better performance and consume 50% less energy than 3.5" disk drives
Data protection with RAID technology: SATA RAID 0, 1 integrated; RAID 5, 6 and hot plug (optional)
Continuous system function: redundant cooling and power supply
Better security with TPM 1.2 technology: it provides system authentication, help with encryption and risk protection.
Simplified installation
The NEC Express5800/R120b-1 is supplied with the new "One Touch" tool-free rail kit as standard. It is a rapid deployment rail system for easy installation and immediate server access.
Same RAID controller supported throughout the server range for a more homogeneous installed base, especially for ease of configuration and operations management.
The NEC Express5800/R120b-1 supports a range of different operating systems including Windows Server 2008R2/2008/2003R2, Red Hat Linux, SuSE SLES, VMWare.
Ultra-powerful administration solution
New remote management version integrated as standard reduces the complexity of managing IT systems. It delivers remote access, visualization, repairs and updates for operating systems. It simplifies the management of the Express5800/R120b-1 server and automates its various operations as well as integrating it in existing systems.
3 LANs available as standard including 1 dedicated to system administration.
Integrated power supply control module
New functions supplied as standard in all 2 and 4-socket NEC servers. This new technology is an integrated real-time power control module which allows you to monitor and analyse the server's electricity consumption with two customer benefits: optimization of TCO and an improved environmental policy.
Benefits of NEC
Control energy consumption and cut costs
The Express5800/R120b-1 server is a server endowed with intelligent consumption. It has been designed to reduce energy consumption while still providing the performance your business requires.
It complies with NEC's Green IT policy, in other words:
Its power efficiency is 80 PLUS® GOLD certified which means it consumes less energy while helping to keep the internal temperature low. This results in maximum system efficiency with a power conversion rate of 92% with optimized TOC.
It supports various dedicated low-energy components in particular 80 PLUS power supplies, the low-voltage series of processors designed to improve performance per watt and SSD flash drives which provide much faster access than standard hard disk.
It supports Green Cooling technology, thereby minimizing the energy used for cooling the system in line with the temperature of its environment, the workload and the configuration. This adjusts the fan rotation speed to the heat emitted by the system.
A new Power Control Technology feature is supplied as standard in the NEC Express5800/R120b-1. This is a tool for managing energy consumption that monitors and optimizes electricity consumption at any given moment for a single server or a group of platforms.
Easy remote management
Controlled server administration
The NEC Express5800/R120b-1 is supplied as standard with the new and improved complete remote management solution EXPRESSSCOPE® Engine 2 and ESMPRO®. It allows you to monitor and control the operation of each server remotely via a Web browser regardless of the status of the OS and even when the platform is shut down. This limits the intervention required by technical teams, which minimizes support and administration costs, downtime and the company's energy consumption.

This integrated software suite provides remote access functions over a LAN (KVM on IP, remote media, graphics console), inventories, software and patch deployment, fault diagnostics and repair via alerts, and server group management. This solution brings total availability to the server and efficiency of operation for a better TCO.
"ExpressReport" proactive alert maintenance
and early intervention service.
This optional service aims to considerably reduce system downtime by automatically detecting problems via the "NEC Maintenance Center" service, and analysing and correcting system failures proactively..
"Express Update" continuous update service.
This integrated server functionality verifies installed versions (BMC, BIOS, Firmware, RAID SW, management software, etc.) on one or more servers and notifies administrators when new versions are available, so that these can be updated automatically.

The NEC Express5800/R120b-1 server has an installation and configuration tool included in ExpressBuilder as standard. This allows you to configure the server quickly and easily and keep the system up to date.
Reduced chassis format
The NEC Express5800/R120b-1 offers performance in an ideal compact 1U chassis format that has been optimized for businesses looking to maximize their processing power in a constrained space. This aids deployment and is particularly suitable for Data Centers where space is at a premium.
RAID simplicity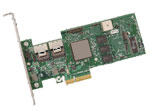 The NEC Express5800/R120b-1 server protects your business's critical data with the robust and affordable new SAS/SATA RAID solution: RAID SAS 8 ports 0, 1, 5, 6 with 128MB, 256MB or 512MB cache with or without hot plug.


The controller is capable of managing 2.5" and 3.5" SAS and SATA/SSD disk drives.
The two models are available in version 2.5" SAS or 3.5" SATA .
Unique RAID administration software available for the entire Windows and Linux range of servers.
The NEC Express5800/R120b-1 offers unrivalled capabilities for protecting data in the most demanding professional applications.
---