Health management
1. Visual Management of Managed Servers
Servers can be automatically detected with mouse in the Operation Window of NEC ESMPRO Manager. Detected servers are located on map as icons, visual server management is realized. (Sample bitmap image icons are registered. System administrators can freely select one and register it.) Managed servers can be managed in groups (for example, department), and hierarchized in the map for reflecting the real organization.

NEC ESMPRO Manager acts as integrated viewer by installing ESMPRO corresponding software on the same PC, and can coordinate ESMPRO corresponding software.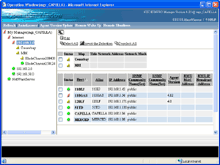 Web-based Integrated Viewer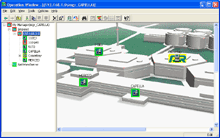 2. Centralized Management of Multiple Servers by one PC
Management PC (NEC ESMPRO Manager) can collectively manage server operation information on multiple servers (NEC ESMPRO Agent) on the network by using SNMP (Simple Network Management Protocol). Each managed server can be remotely rebooted and shutdown by NEC ESMPRO Manager. NEC ESMPRO Agent for Windows Ver, 4.0 or later can be managed with Web browser via the Internet.
3. Configuration Status and Operational Information Management
NEC ESMPRO Manager can view resource status of servers such as CPU, memory, disk, disk array, LAN board, operational status of servers, running status of OS and various software applications. It can view HTTP, FTP, Gopher information managed by Microsoft's Internet server (IIS: Internet Information Server) operating on the managed servers.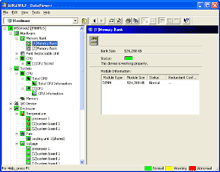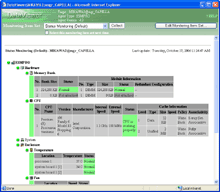 NEC ESMPRO Manager can monitor the CPU loading, memory usage, disk usage, hard disk protection status of servers, traffic status of LAN, and so on, and display graph view in real time. NEC ESMPRO Agent always monitors the server. When the value of items exceeds the threshold of alert, it notifies the risk of system performance deterioration, damage of parts to the NEC ESMPRO Manager. In addition to the predefined threshold, it has local polling function. It allows system administrators to set alert notification more suitable for their request, by selecting any monitoring items and setting conditions.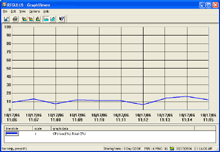 Local Polling Setting screen
* GraphViewer and Local Polling Setting cannot be used from Web browser.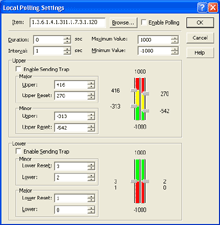 Alert Viewer is the third component of the NEC ESMPRO Manager. It receives the problems on servers detected by NEC ESMPRO Agent as SNMP alert and makes lists, and notifies to system administrators with beep or pop-up window when receiving alerts. Problems detected by ESMPRO corresponding software can also be displayed. ESMPRO corresponding software can be started by simple operation in the alert list shown in the Alert Viewer for convenience of system administrators. (For example, when network failure alert is received, Network Information screen can be displayed with simple operation.)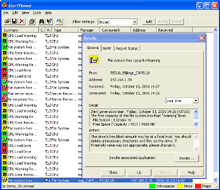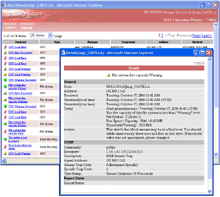 Energy management
4. Remote Peak Power Management[NEW]
One of the basic features of the NEC ESMPRO and EXPRESSSCOPE Engine Suite is peak power management, or power capping. The function allows administrators to remotely define the peak power consumption of servers. In addition, the actual power draw is displayed as a real-time graph to provide intuitive insight on power use and its cost.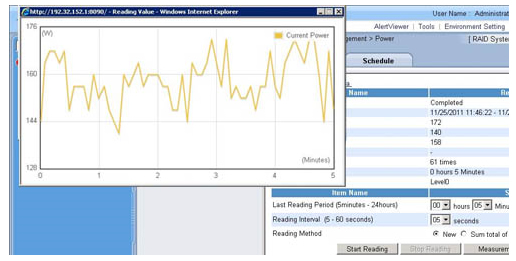 Power management view
NEC ESMPRO and EXPRESSSCOPE Engine together support remote settings of the following power-saving features :
Shift peak power
Set off an alert when power reaches user-defined threshold levels for warning or abnormality* *Only the abnormal value can be defined with EXPRESSSCOPE Engine 3
Automatically run defined action when power continues to exceed the threshold (e.g. OS shutdown, collect system event logs, report to administrator)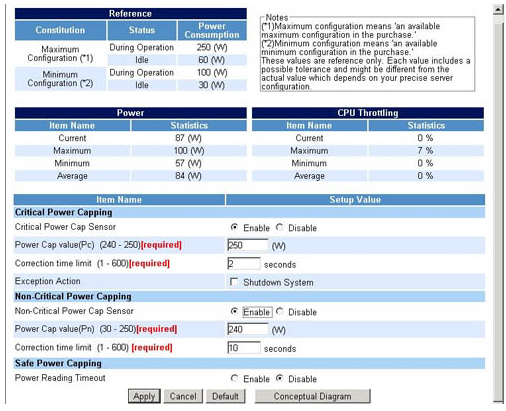 Power management policy settings view
5. Run Scheduled Jobs without UPS[NEW]
Even in systems without an Uninterruptable power supply (UPS), NEC ESMPRO in conjunction with EXPRESSSCOPE Engine can perform scheduled tasks to shutdown/restart servers. This supports power-efficient operation through automatically shutting down servers during idle hours. In addition, the scheduled tasks can be easily cancelled or reset to flexibly respond to changing conditions.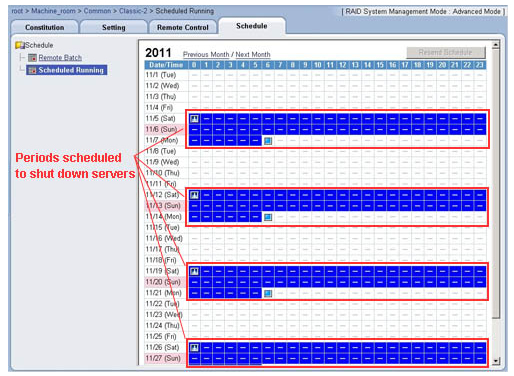 Updates management
6. NEC ExpressUpdate Simplifies Version Control
While version control of firmware such as BIOS is critical for ensuring stability of servers, the heavy workload ― constantly obtaining updates, downloading modules, and applying the change to each individual server ― can be daunting for server administrators.

NEC ExpressUpdate provides a solution to version control by consolidating management of update modules and its installation procedures for BIOS and firmware of multiple servers. It automatically collects the latest updates through the web and notifies the management console. The administrator then can install the updates to the remotely-located servers by simple procedures ― just a few clicks on the management screen. While reducing onerous tasks, as well as time and cost to travel to each site, NEC ExpressUpdate ensures your servers are updated with the latest modules.