Overview
A few minutes of downtime is not an option in today's business environment. A single server failure could affect a company's whole system, resulting in enormous loss of business opportunities. Delivering exceptional availability through completely redundant components, the Intel® architecture-based NEC Express5800/ft series fault-tolerant (FT) servers provide the right solution to address planned and unplanned downtime and make non-stop business a reality.

Fault Tolerant servers surpass the concept of high availability to enter the era of the "continuous availability". Such servers are designed to guarantee an availability of 99.999%, that is to say on average less than 5 minutes of unplanned interruption per year, including time necessary for repairs, updates, and general maintenance.
NEC Express5800/300 Series Servers benefits include:
Continuous availability for 99.999% system uptime
Affordable fault tolerance using Intel Xeon based technology
Hardware redundancy of all components
NEC Express5800/ft series
Windows models

NEC Express5800/R320a-E4
NEC Express5800/R320b-M4
Powered by Intel® QPI architecture processors and large memory capacity, NEC Express5800/ft series servers deliver reliable performance along with high availability.
Linux models

NEC Express5800/R320a-E4
NEC Express5800/R320b-M4
Supporting Red Hat Enterprise Linux Advanced Platform, the R320 deliver superior fault tolerance and high availability with a variety of OSS and application software.
VMware models

NEC Express5800/R320a-E4
NEC Express5800/R320b-M4
The R320 support VMware vSphere 4 or vSphere 5 for simplified server consolidation and delivers solid reliability and availability in virtual environments.
Features
Unprecedented fault tolerance
Achieving near-zero downtime is for mission-critical businesses that cannot afford a single moment of failure. NEC Fault Tolerant (FT) servers deliver exceptional uptime through dual modular hardware redundancy and help maximize your business outcomes.

The NEC Express5800/ft series servers provide high availability through hardware redundancy in all components: CPU, memory, I/O, hard disk drives, and cooling fans.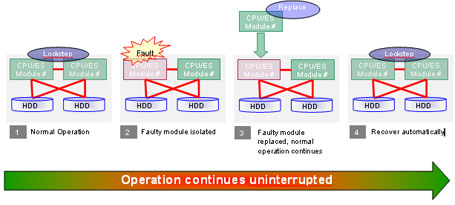 High-availability Technology
GeminiEngine™ The Heart of Lockstep Processing
The heart of the dual modular architecture is the GeminiEngine™ chipset specially engineered to synchronize redundant components and prevent CPU performance degradation due to hardware redundancy control. GeminiEngine enables "lockstep" processing, which allows the redundant components to process the same instructions simultaneously, eliminating potential failure points for continuous processing.
Active Upgrade™
Active Upgrade™ is a combination of system architecture and software that allows the administrator to perform routine software maintenance with minimal interruption.* The Active Upgrade technology addresses planned server downtime necessary to install upgrades and enhancements to operating systems, service packs, applications, and system software. The updating process has much less impact to business operations with Active Upgrade by splitting the fully redundant system into two independently running servers and enabling online upgrades. As an innovative approach to address a top concern of IT departments on dealing with the monthly patches issued by Microsoft, Active Upgrade ensures the availability of the Windows operating system.

* Active Upgrade™ is available on the Windows models only.
Rapid Disk Resync (RDR)
The RDR resumes disk mirroring by performing quick copies of only data changes, rather than entire disk data, helping reduce the resynchronization time and improving disk reliability and availability.

* The RDR is available on the Windows models only.
Virtualization
Server consolidation with virtualization can significantly lower the TCO by reducing distributed servers and much of the maintenance related workloads and costs. By supporting VMware® vSphere and Microsoft® Windows Server® 2008 R2 Enterprise Hyper-V™ 2.0, NEC Express5800/ft series servers provide a virtualization platform of utmost reliability and availability.

In a virtualized environment, multiple virtual servers reside on a single physical server and its downtime can cause unprecedented damage. NEC FT servers reduce these costly risks by its fully redundant hardware and ensure continuous operation of your virtualized setting.

Note: Specifications are subject to change without notice.
---
Benefits
Fast Processing Performance
The Express5800/R320 server features latest Multi-Core Intel Xeon processors, achieving the same performance as conventional 5000 series Intel two-socket servers.
Lower Total Cost of Ownership
The FT Server can deliver a lower total cost of ownership over the life of a server as compared to alternative high availability solutions, such as software clusters. To run in redundant mode, the FT server only requires one copy of the operating system and application software license, no professional services to setup or configure the server, and no cost or services are required to replace a broken server module under NEC's warranty program. It's simple to setup, simple to use, and simple to maintain.
Operational Simplicity
With the support of leading operating systems providers, FT servers implement redundancy at the hardware level, reducing failures to notifications and indicator light status. This approach significantly reduces the complexity associated with other forms of high availability such as clustering systems. It also simplifies system management and recovery operations, since administration and configurations are performed as a single system view.
99,999% system Availability
Easy maintenance
Modular concept: each module can be identified, and easily extracted without calling upon particular expertise and requiring use of specific tools.
Standard components and software
The components (Processors, memory, hard disks, expander cards) used are the same ones as those found in a standard Intel server. Because of this, NEC is now able to offer fault tolerant solutions at reasonable price.

The Windows applications (Exchange, SQL server, SharePoint, etc...) used are identical to those installed on a standard server, therefore there is no need to modify them.

This also applies to the Windows 2003 R2 (1)

(1) Security patches and Service packs are subject to a preliminary validation before being applied.
Economic solution
Less expensive than a "cluster" based server. As there is only one copy of applications, there is no need for the server to be "cluster-aware".