The first modular server built from the ground up for small and midsize businesses (SMBs). The NEC FlexPower Server, developed in conjunction with Intel Corporation, combines computing, networking and storage capabilities in one system to meet SMBs' need for budget-friendly IT simplicity and flexibility.
---
Overview
Specifically Designed for SMBs

with demanding IT needs and a limited budget, the NEC FlexPower Server is ideal for SMBs that are planning to purchase up to three servers in the next year. By deploying a NEC FlexPower Server, SMBs can get the server performance they desire, added storage capabilities and high-reliability and manageability features at cost-effective prices.
The NEC FlexPower Server is a flexible and powerful solution

Ideal for :

With IT application projects requiring 2,3,4 servers on the same site
Who wants to rack or consolidate their servers
MSP (Managed Service Providers)
To manage each customers
To grow and adapt their IT quickly
To reduce their maintenance and operation costs
VARs or System Integration Partners
With their own applications (dedicated small computing farms…) for vertical markets
Reselling and integrating large applications,ERP, Mails…
---
Specifications
Fully integrated system
The NEC FlexPower Server gives your business the power to perform more efficiently and more effectively than ever before.



Scalable Server
Computer Capacity

Supports up to six Multi-Core Intel® Xeon® dual processor-based Server Compute Modules
Virtual, Integrated Shared Storage
Diskless Server Compute Modules utilize the integrated SAN with virtual drives to increase
Virtual Presence GUI Management
Manage your system as if you were standing right in front of it with the Virtual Presence GUI Management Interface



Integrated Networking

Dual Gb Ethernet switches offer ten 1 GbE uplinks per module.
Doubles Switches Redondants
Full Redundancy & HotSwap Capabilities
Hot-swappable Server Compute Modules and storage drives let you increase capacity on-demand. Redundant modules and hot spare options improve IT availability of the Intel Modular Server.



Flexible Power Options

Chassis power supplies can utilize 100-240V power, eliminating special power requirements worldwide. The consolidated power and cooling features reduce operating costs.
---
Benefits
What is the NEC FlexPower Server ?
IT is a robust business in a box
Simple
Enjoy one integrated system with point and click management
Flexible
Increase capacity on demand with hot swappable compute and storage capabilities
An exceptional value
Lower your costs with a server designed to fit your budget with many high-end features accessible to your business
---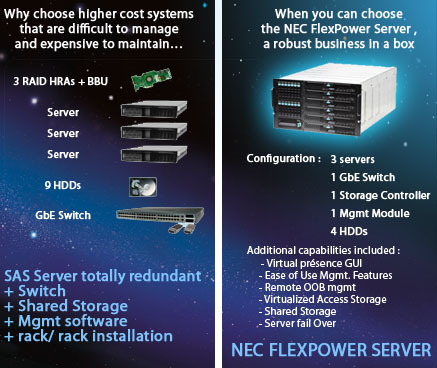 Management is complex !
Use NEC FlexPower Server with "Virtual Presence" software
Virtual Presence - You empower IT to work more efficiently.
Businesses can see all system components and control them remotely via the GUI as if they were standing in front of it.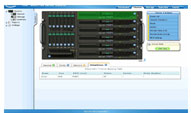 Ease of use hardware management :


Web GUI
End-to-end management
Remote management
KVM over IP, Virtual Media
The right decision for your business
with NEC FlexPower Server built on Intel® Multi-Flex Technology
Increased Network uptime
Redundant systems increase network uptime with failovers between servers and backups.
Easy application migrationShared storage and virtual drives provide for easy application and storage migration.
Grow-As-You-Go flexibility
With options for up to six Server Compute Modules and up to fourteen storage drives, purchase only as much as you need when you need it.
Greater asset utilization
Diskless Server Compute Modules allow for maximum use of system assets.
Unique serviceability
Hot-swappable components don't require any cables or tools to service.
Ease of Management
One integrated system with end-to-end management lets you manage the entire system from a Web-based GUI interface.
Improved data protection
Centralized backup and virtual access allow for greater data protection.
---