Overview
Product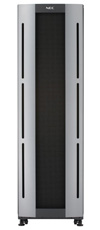 In data centers housing large numbers of servers with vast amount of mission critical data, "energy savings" and "space savings" are becoming more vital issues as data volumes grow. NEC's ECO CENTER leverages specially designed rack mounted hardware that combines advances in power efficiency, virtualization technology, and platform management capabilities to optimize power consumption.

ECO CENTER's design focus is the "rack"— the data center's minimum configuration unit. Thanks to a hardware configuration using server modules with NEC's improved power utilization and virtualization technology that consolidates virtual servers and that realizes more efficient operational loads, ECO CENTER enables energy savings through optimized power efficiency.

NEC's platform management technology saves even more. NEC SigmaSystemCenter continuously and autonomously balances operational loads across the virtualized servers. By offering extensive management functions, from monitoring of server health and workloads to optimal reallocation of server resources and migration of virtual servers, NEC SigmaSystemCenter brings unparalleled availability and power-savings to data center environments.
Key features

Cutting-edge energy saving components – processors and memory – allow enterprise customers to go green. Solid State Drive achieves more power saving.
Cooling efficiency is improved through maximized front and rear panel openings and consolidated connection cables on the back of the rack.
80 PLUS Gold power supply delivers a power conversion rate of 92%, improving efficiency under both peak and off-peak loads.
Housed in an aluminum chassis with the reduced number of structural components, ECO CENTER achieves 655Kg for one 42U ECO CENTER Cabinet mounting 80 servers or 960 cores.
NEC "Express5800/E120b-M" Server Module is adapted to the Gold standard of Climate Savers Computing Initiative (CSCI).
Specifications
Server Module
E120b-M
Model number
NE1200-001H
NE1200-003H
No. of servers (per server module)
2
2
Server module type
2 server nodes
2 server nodes
Processor
Processor
Intel® Xeon®L5630
Intel® Xeon®L5640
Intel® Xeon®L5630
Intel® Xeon®L5640
Clock
2.13GHz
2.26GHz
2.13GHz
2.26GHz
Core (C) / Thread (T)
4C/8T
6C/12T
4C/8T
6C/12T
L3 cache
12MB
No. of processors (max) (per server)
2
Chipset
Intel® 5500
Memory
DDR3L-1333 Registered DIMM
Transfer rate
1066MHz
1333MHz
1066MHz
1333MHz
Maximum memory (per server)
96GB (12x 8GB)
Disk drive (per server)
Disk bays
2 (HDD: SATA 160GB or SSD: SATA 50GB)
Maximum capacity
320GB (160GB HDD x 2)
Expansion slot (per server)
1x PCI EXPRESS 2.0 (x16)
Graphics
Chip
Integrated in the Server Management Controller
VRAM
16MB
Interface (per server)
2 x LAN (1000BASE-T/100BASE-TX/10BASE-T)
1 x LAN for management (100BASE-TX/10BASE-T)
1 x Video for maintenance
1 x Serial for maintenance
2 x USB2.0 for maintenance
Dimensions (W x D x H)
85.0 x 650.0 x 220.0 mm
Weight (max)(per Server Module)
9.5kg
9.5kg
Power Supply
Max. config. (standby) (per server)
110VA/106W
112VA/108W
116VA/116W
118VA/118W
Max. config. (during operation) (per server)
257VA/254W
318VA/315W
264VA/264W
325VA/325W
Temperature and humidity condition
During operation: 15°C to 32°C / 20% to 80% (non-condensing)
When stored: 5°C to 45°C / 8% to 80% (non-condensing)
Supported OS
Microsoft® Windows Server® 2008 R2 Standard
Microsoft® Windows Server® 2008 R2 Enterprise
VMware ESX™ 4.0/ 4.1
*1GB means 1000³B. Actual capacity will be less.
Benefits
TCO reduction : Energy
Consumption between 175 and 350W according to the options
All components and association with virtualization and SSC offer Energy efficiency
SigmaSystemCenter can manage provisioning of the virtual machines and switch of the servers
All the servers can be managed like a dynamic pool
TCO reduction : Manageability
Remote control on multiple volumes
All the servers are identical and can be easily upgraded
HDD remote survey whatever the OS installed
Physical conception to speed up the interventions in case of service
Flexibility and Modularity
Compatible with all racks and designed to be manage as a standard product
The evolution of Eco center homogeneous
Motherboard can boot on VMware
Stability and Quality
Successful in Asia Data Centers since 1 years.
Hard Drives are mounted on anti vibration systems