A lineup of servers created expressly for the Datacenter market, incorporating the technologies and services essential for installation and operation in Datacenter environments.
Problems encountered by Datacenters today
In response to changes in the online environment, Internet Datacenters (iDCs) are being used more often and for a more diverse set of applications than ever before.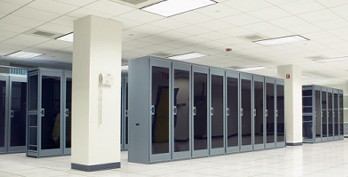 Installing new PC servers to expand your business creates a number of issues including how to procure sufficient power and air conditioning. With the advent of CPUs with high power requirements, the lack of sufficient electrical power has become a serious problem for preexisting iDCs, and when their server racks are full, these businesses can find themselves without sufficent power.

Additionally, the heat produced by these servers creates problems for conventional air conditioning systems, which can add an enormous cost to the price of increasing data storage capacity in existing buildings. As a result, businesses frequently aim to solve these problems by securing a new space to open an iDC.

NEC has introduced the Express 5800 series/DataCenter servers, which feature superior energy- and space-saving capabilities, to respond to the demands of iDC professionals seeking a solution to these various problems.