---
Overview
IT Infrastructure: a nightmare for SMB!
Too many systems: servers, storage, switches...
Too many management tools
Need for IT well trained and available staff…
NEC and VMware propose a virtualization solution simple and secure: the NEC FlexvServer
Common SMB IT challenges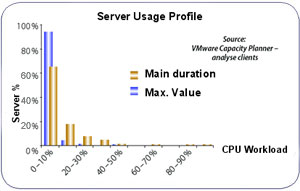 Business Continuity:
SMBs are particularly sensitive to server downtime. Smaller businesses are often unable to protect or recover all of their data due to hardware constraints, physical space or budget limitations. Yet, research shows that between 60% and 90% of companies without a proactive disaster plan, find themselves out of business within 24 months of experiencing a major disaster.
Optimizing Hardware Assets:
IT expenses associated with hardware purchases, maintenance and facilities costs can really strap a resource constrained SMB. Combine this with typical server utilization rates under 15% and SMBs often find themselves searching for ways to better manage and leverage existing server environments.
Simplifying Operations:
Provisioning new physical servers can take days, or worse, weeks, in some instances, resulting in the inability to respond quickly to business requirements and IT staff spending too much time on administrative tasks. A desire to free up people to focus on higher-value activities and be more agile to address shifting business demands is always a challenge for a SMB.

The first modular server built from the ground up for small and midsize businesses (SMBs). The NEC FlexPower Server, developed in conjunction with Intel Corporation, combines computing, networking and storage capabilities in one system to meet SMBs' need for budget-friendly IT simplicity and flexibility. Combined with VMware vSphere, it represents a real ready-to-use virtualization solution.

VMware Virtual Infrastructure is the worldwide leader technology for virtualization.

In addition to energy savings and lower capital expenses due to more efficient use of your hardware resources, you get high availability of resources, better desktop management, increased security, and improved disaster recovery processes when you build a virtual infrastructure.

Discover how you can benefit from combined assets of NEC FlexPower solution and VMware Virtual Infrastructure software suite
---
Benefits
NEC FlexvServer Key Benefits
Maximum simplicity: the complete virtual infrastructure in a single modular system
Space optimization: up to 50 Virtual Machine in a compact 6U chassis
High flexibility: thanks to its scalable and modular design, add blade and storage according to your business needs
Security and High Availability: RAID 5 HDD and High Availability features from the VMware vSphere
Reduced operation cost: limited power consumption
Under-control management: remote management and easy maintenance thanks to powerful and intuitive tools.