---
Thin Client
Desktops
In the NEC Virtual PC Center environment, various desktops can be connected:
Thin clients
Tablets
Smartphones
PCs (used without storage and local applications)
NEC thin client terminals
The use of thin clients saves time and minimises effort spent on updates and replacements. Easy to install and replace in the event of a failure, the lack of removable parts makes these terminals very reliable.
Model
US300c
US110c
Key features
High performance,
highly extensible terminal with dual monitor capability
Secure and affordable terminal featuring dual monitor capability
Processor
VIA Eden 1GHz
VIA Eden 1GHz
Memory
2GB Flash/1GB RAM DDR2
128MB Flash/512MB RAM DDR2
Network Interface
1000/100/10-Base-T
IEEE802.11 b/g/n
(for wireless LAN model*)
1000/100/10-Base-T
IEEE802.11 b/g/n
(for wireless LAN model*)
Graphics
Max. 1600 x 1200
Dual display available
Max. 1600 x 1200
Dual display available
External Dimensions
(W x D x H)
177 x 121 x 34 mm
(excluding the stand)
177 x 121 x 34 mm
(excluding the stand)
Weight
670g
670g
Power Consumption
Max. 14W
Max. 14W
Terminal Embedded OS
Windows Embedded Standard 2009
Windows CE 6.0
Other
Supported Protocol RDP7.0 ICA11.2
Supported protocol RDP6.0
ICA10.17
---
Servers
To optimise your Virtual PC Center environment, NEC particularly recommends that you use its high-performance servers, optimised for virtual environments.
VPCC for Enterprise
Blades, Racks, Eco-Center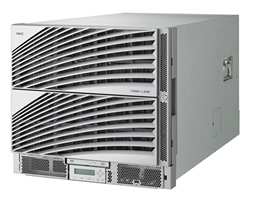 Storage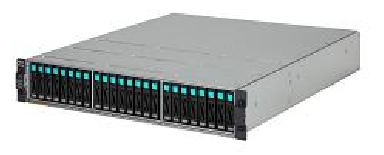 In order to secure the Management server with High Availability, NEC proposes its fault tolerant servers and/or the software solution ExpressClusterX.
Fault Tolerant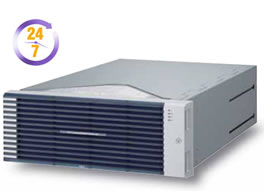 ExpressCluster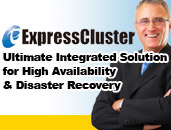 VPCC for Small and Medium Businesses
Backed by the strength of its NEC Virtual PC Center (VPCC) solution, initially designed for large corporations, NEC has successfully developed new, high-quality products adapted to small organisations with less demanding requirements : VPCC in a box for very small businesses (fewer than 20 people) and FlexVPCC for small businesses.
VPCC in a box : ideal for less than 20 users
VPCC in a box includes onto a single physical server its virtual management server together with 20 virtual PCs. VPCC in a box can be installed on both major virtualisation environments : VMware ESX and Microsoft Hyper-V.

VPCC in a box can easily be expanded to a more traditional VPCC solution in order to accommodate a greater number of users, or when deployed on a larger scale, by redistributing resources across several servers and implementing SAN storage systems as required.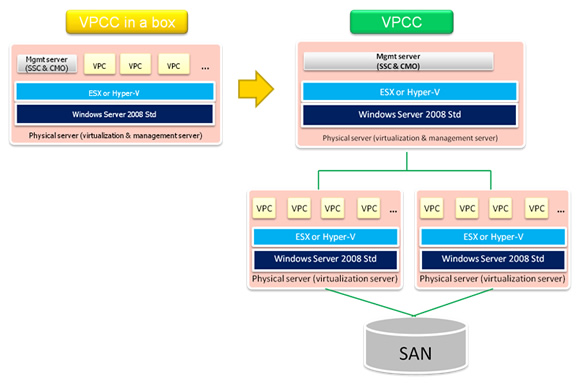 NEC's network of partners provides VPCC in a box to customers with no IT resources, together with a service offering remote administration of their workstations.

NEC VPCC in a box is also an excellent solution for businesses that want to evaluate the feasibility and adaptability of desktop virtualisation to their needs over a longer period. Its flexibility will allow it to serve a large number of users by increasing physical resources, while sharing different roles once it is adopted on a larger scale.
FlexVPCC : a true private mini-cloud
The FlexVPCC solution is a scalable appliance that offers simple administration and workstation virtualisation for 20 to 200 users.

NECFlexVPCC also benefits from the great flexibility offered by the hardware that hosts VPCC : the NEC FlexPower, NEC's micro data centre, has an entirely modular design. NEC FlexPower incorporates up to 6 dual-core compute modules, 14 hard disk drives and an integrated network switch within a single enclosure, and comes with a very intuitive administration console. En savoir plus sur NEC FlexPower
A virtualisation platform optimised for SMBs, adaptable to many situations : integration (or not) with global infrastructure, and administration by either the customer or NEC partner, acting as a true private mini-cloud.
Simple administration contributing to major cost reductions in workstation deployment, maintenance, updates, etc.
Guarantee of virtual machine availability for users, and time freed up for the IT team to spend on more important development projects.
With FlexVPCC, NEC allows small businesses without any true infrastructure as yet (with AD, messaging, network) in taking the step of installing it, as well as workstation virtualisation.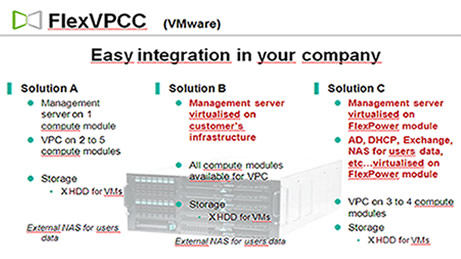 ---
Software
One of the essential components of a virtualisation platform is its administration and monitoring tool. Its ease of use, its performance and its characteristics have a considerable impact on the increased productivity, and therefore the reduction of TCO, actually obtained through the virtualisation of desktop.
NEC SigmaSystemCenter guarantees the stability of operations and has already proven its effectiveness in environments of up to 10,000 users.
Advantages of SigmaSystemCenter
Easy administration of virtual desktop
Easy to add users
Installations of patches in one place
Optimisation of resource allocation
Automatic recovery in the event of failures
Duplication of the administration server
Encryption of communications between the terminals and the manager
Operating principles
The users are automatically identified and connected to their virtual PC according to their logon details and connection terminal.
Patches and applications are updated centrally and automatically distributed to all the virtual PCs.
It only takes a couple of minutes to add a new user.

For more information about VPCC including the White Papers and video, please contact us.
---
---