---
Features
Major characteristics of NEC's Virtual PC Center
Optimal Resource Allocation
One server can be shared by multiple virtual PCs, and it is also possible to optimally allocate server resources such as CPU and memory across multiple PCs. For example, when a user executes a high-load task, resources not being used in other PCs on the same server can be redirected automatically to this PC.
Ensuring High Availability for VM's
NEC SigmaSystemCenter monitors failure of hardware and software of virtualization host servers. It can detect impending hardware failure conditions and avoid system downtime by transparently moving virtual machines to another healthy host server using live migration. When a virtual machine stops running, it is restarted on an alternative healthy virtualization host server for a quick recovery. This ensures a better productivity for users who can run their VMs without any interuption.
TCO Reduction - around 25% over three years
TCO reduction, one of the benefits of using thin clients, is further improved by utilizing unique functions developed by NEC. Compared with the traditional desktop model virtual thin client system, our system has achieved further operation management cost reduction by two means:
By using Sigma System Center (SSC), NEC's unique central management software, the operation of physical servers and virtual PCs can be centrally managed. By monitoring each virtual PC, distributing software, the environment settings and management of sessions between thin client terminals and virtual PCs.
By providing a server with pre-installed virtual PC server platform, as well as Windows® operating system for virtual PCs, initial workload and cost during the implementation is also reduced greatly.
As a result, compared with TCO of owning traditional business PCs for three years, this system's cost is 25% lower.

Smooth Streaming Video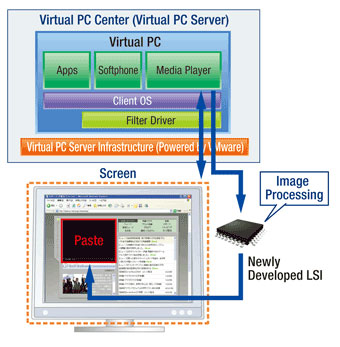 Smooth-streaming video, which was not possible on earlier thin client systems, is now possible. A developed system LSI adopted for the thin client terminal processes video image commands on a server, so the video image performance is comparable to traditional business PCs.

As a result, increasing use of video content as well as video conferencing is now possible in the thin client environment.
Ubiquitous Work Environment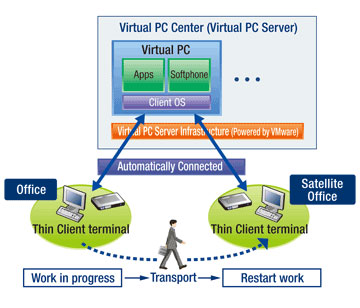 In a virtual desktop environment, a ubiquitous work environment is achieved.

End users can retrieve their own desktop environment, regardless of which thin client terminal they are using. The system can provide an ubiquitous work environment where our own desktop is accessible anywhere.

Many benefits can be drawn from there, including productivity improvement by enhancing individuals' mobility

Also, VPCC enables a wide variety of terminals to access its Virtual Desktop through web browsers without installing special connection modules.

Furthermore, the VPCC features a newly developed linking function through the XenDesktop(R) from Citrix(R), and enables virtual desktops to be accessed using either the RDP or ICA connection protocol. As a result, users may conveniently select the protocol that is most suitable to their working environment.
Ecology
Compared to a distributed use of traditional business PCs, VPCC system can cut energy consumption by about 60% using the thin client terminal US110c or US300c, and servers in the data center.

As stated thus far, NEC Virtual PC Center is able to expand the conventional notions of thin client capabilities. The system delivers the same performance level as traditional PCs, while significantly reducing TCO and providing robust security measures.
---
Architecture
A complete solution
The NEC Virtual PC Center solution covers all aspects of the virtualisation of desktops, from the hardware infrastructure to the administration software platform and thin clients.
The advanced administration tools guarantee the stability of the infrastructure thanks to advanced functionalities such as the supply of virtual machines and servers on demand or access filtering.
Operating principles
---
PC / Thin Client
From a PC architecture to the NEC Virtual PC Center
By virtualising desktops using the NEC VPCC solution, administrators and users reduce the amount of time spent managing their desktops. According to NEC's calculations, this represents a TCO reduction of 25%.
Their centralisation makes it easier to guarantee the security of data and it takes just a few minutes to replace a broken down terminal.
Comparison
Reduction of the TCO by around 25% in 3 years
The administrator uses a centralised console - NEC SigmaSystemCenter - to manage the virtualised servers and the client desktop configurations. The increased productivity measured contributes to the reduction of the TCO by around 25% in 3 years.
The main administration benefits are:
Easy administration
Reduction of operating costs thanks to the NEC SigmaSystemCenter
Easy to add or remove PCs
Easy management of the anti-virus

For more information about VPCC including the White Papers and video, please contact us.