---
Approach
Providing you with a secure ubiquitous office
NEC offers a Virtual PC Type thin client system called the Virtual PC Center (VPCC).
NEC's new thin client system solution integrates and centralizes client assets, such as data and applications, entirely on servers in the data center in order to fulfill three requirements:
Enhancing security in the client environment
Reducing TCO
Providing mobility and working efficiency
As a result of centralizing assets, the client is extremely simple, serving as a user interface without resident data or applications.
"Virtual PC Center" System Image
---
Ressources allocation
Optimal Resource Allocation
One server can be shared by multiple virtual PCs, and it is also possible to optimally allocate server resources such as CPU and memory across multiple PCs. For example, when a user executes a high-load task, resources not being used in other PCs on the same server can be redirected automatically to this PC.

In addition, if the virtual PCs on one server become overloaded and the server's resource is not sufficient, some of these demanding virtual PCs can be moved to another server with available capacity. This operation does not affect the end user who is executing a task on the virtual PC being moved. Multiple server resources are considered to be one pool of resources and are optimally allocated to virtual PCs.

Moving a virtual PC from one server to another is a very effective function not only at the time of high resource needs, but also when failures are detected or during maintenance operation. Creating a new virtual PC is also a simple operation that can be done in about 10 minutes using a template from the management console in the server.

Preferential server resource distribution to high-load virtual PCs.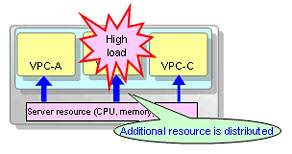 Resources can freely be distributed to each virtual PC in a server. When a virtual PC's load becomes high, unused CPU/memory in the server are preferentially distributed to a high-load virtual PC.
Automatic virtual PC transfer to low-load servers.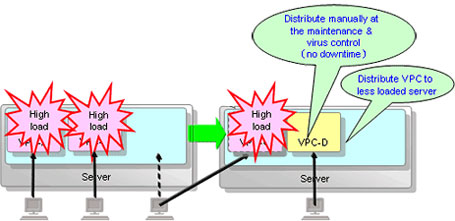 System detects high-load status if the status continue for a given length of time. A virtual PC is transferred to a low-load server to adjust load balance. The virtual PC transfer is performed at short times without stopping business.
Easy to add virtual PCs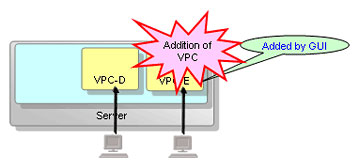 Virtual PC addition is available at short times by GUI operation in the management screen.
Extra low power consumption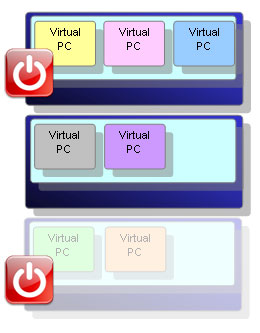 If there are less users than usual, in this case there is no need of many virtualization servers, Sigma System Center allows to gather the virtual machines and shut down the idle servers.
---