---
Overview
The virtual Infrastructure Server
Companies are constantly trying to streamline their PC fleet. Virtual infrastructure is the best way to achieve this goal and its implementation is simple, flexible and economical.
The FlexNDV Bundle
NEC and Neocoretech join their expertise by combining state of the art infrastructure with efficient virtualization software solution : NEC FlexNDV.

The FlexNDV bundle combines the user friendly approach of NEC's FlexPower solution with the Neocoretech Desktop Virtualisation software solution and promises a ROI in less than 1 year, with an unmatched acquisition cost in the domain of desktop virtualization.

The NEC FlexNDV solution, the first « all in one » desktop virtualization system starting from 50 desktops, offered in a single chassis with complete physical infrastructure (up to 6 server blades, storage, network switches and administration) and the Neocoretech Desktop Virtualisation (NDV) software solution. The management of the FlexNDV is facilitated by the use of a highly intuitive administration console, which significantly reduces operating costs (OPEX) of the IT fleet.

This innovative combination provides considerable savings on space and energy.

The FlexNDV solution allows rapid deployment of hundreds of virtual PCs : customizable and secured by a single image.
Scalability and High Availability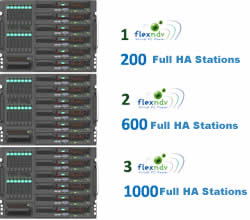 FlexNDV technology allows an expansion of virtual PCs on demand.

The high availability of virtual PC is native and does not require any external storage. A FlexNDV can hold up to 200 high availability (HA) virtual PCs.

The addition of a second FlexNDV on the network allows the management of 600 HA virtual PCs and up to 1000 with a third FlexNDV.
For businesses under 50 users, NEC proposes RackNDV.
---
Benefits
Advantages of the NEC FlexNDV solution
The NEC FlexNDV can offer, through a centralized infrastructure, completely isolated desktop PC's, customizable and secure , in which users can easily work with Windows Office or Linux and their respective applications. These virtual PCs are accessed via thin client terminals which are less costly in terms of daily management, can be easily exchanged in the event of a technical failure and are more secure than fat clients. Company data is secure through the datacenter and remains accessible regardless of geographical location. The flexibility to extend the NEC FlexPower allows businesses to start with a few virtualized PCs and increase the fleet with complete ease and peace of mind by tens and even hundreds of PCs.

Cost optimization thanks to centralized administration : NEC FlexPower and Neocoretech Desktop Virtualization
Optimal security :
High availability hardware with redundant power supply, fans…
High availability hypervisors and brokers
Flexibility : thanks to deployment of virtual machines within seconds and scalability of base hardware.
---