---
Approach
High availability of IT systems and data is a major issue, and will be for many years to come for IT managers who are responsible for the security of data for businesses and the smooth running of applications and systems.

The aim is to protect against unplanned downtime (breakdowns) and also against planned downtime (updates, upgrades, etc…), of which the consequences can sometimes be underestimated.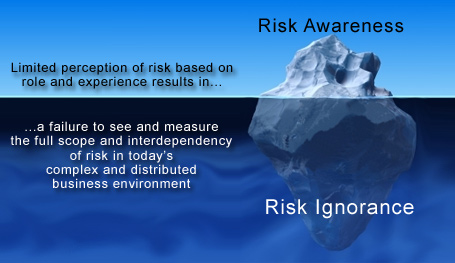 NEC uses each component of the IT system to provide a solution which caters to the needs of its customers. From simple backing up or storage policy of sensitive company data to the continuity of service systems up until the return of business, NEC meets all of these requirements through innovation.
As technologies are constantly developing, the implementation of a disaster recovery plan or a high availability system solution can be very complex and costly nowadays in terms of administration of processes and resources as opposed to direct costs of implemented products (hardware, software).Therefore, innovation should be a simplification, consolidation and optimization service in order to reduce administration costs.
That's why, through its Business Continuity offer, NEC places a particular importance on advice and developing a portfolio of solutions which are unmatched on the market.
An unmatched technological advance
Boasting an unmatched technological advance, NEC is in fact, the only player in the market with the power to offer its clients a complete business continuity infrastructure (Servers, storage, Cluster, DRP, continuous availability, Management Softwares) the same manufacturer, which can reach a 99.999% level of availability.
A detailed analysis of the needs and issues of the business
Expertise of a manufacturer for the design and sizing of the infrastructure (servers, storage, backups, PRA…)
Tele-surveillance services to prevent incidents
Integration and support of required hardware and software
Business continuity services and Disaster Recovery Plans for virtualized environments
---
Nec Offer
The NEC Express5800 and D-Series product lines offer a wide range of backup solutions and data storage. But beyond these requirements, NEC is able to bring a 99.999% level of availability(less than 5mins worth of unplanned downtime per year) for a NON STOP Business, with its range of Fault Tolerant servers, which can also be combined with a comprehensive disaster recovery plan:
All-in-one backup: Up to 9TB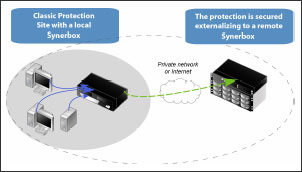 In order to ensure an optimal backup plan and resolve problems associated with the back-up process and restoration (restricted back-up time, voluminous data, reliability of backup devices, simplicity of restorations, band management, back-ups integrated into a disaster recovery plan, etc), NEC has developed an appliance which integrates both hardware and software.This solution guarantees unmatched interoperability of hardware/ software/ Firmware and responds to any problems encountered:
Ease of use and administration. A single console can drive all of the backup devices on 1 or several sites.
D2D2T (Disk To Disk To Tape) technology is used to raise the level of performance of backup and restoration devices. In 95% of cases, the restoration is done directly from the appliance disks for a quick recovery.
Real time and hot block mode back-up
Intelligent backup motor which guarantees the smooth running of the backup device in crucial times.
Site to site backups.
Backup of data, applications (Exchange, Lotus Notes, Oracle, SQL) and systems (Window/ Linux/ Unix.)
Storage: Up to 1.1 PB
The securing of data in terms of availability of access is paramount in the implementation of an Information System availability plan.

NEC's answer is the simplicity and expandability of the performance service with a complete range of storage solutions. The VMWARE certification of this range ensures perfect interoperability of NEC infrastructures with VMWare technology on board. NEC's entire storage range is accompanied by a complete software suite to ensure a comprehensive administration of the infrastructure and to guarantee the backup of snapshots or the implementation of inter-site replications.
NON stop Business
While any planned downtime can cause major financial losses for business, NEC differentiates itself by developing (NEC Patented) a single system which surpasses traditional high availability in order to attain continuous availability. With its Fault Tolerant Server, high availability comes.

In the case of a system breakdown, no service interruption occurs; applications continue to function as normal without compromised performance, loss of data (memory, cache, data) or loss of any transactions. The "fault" is therefore totally transparent for the user.
Disaster Recovery Plan
The disaster recovery plan represents the final stage in the implementation of a continuous availability plan as it anticipates major losses. While NEC recommends fault tolerant solutions for local resilience in order to avoid switching of applications and processes for a simple hardware fault, NEC recommends the implementation of an inter-site DRP in order to protect oneself from threats to the main site.

NEC solutions are based around Cluster solutions (ExpressCluster, Double-Take) ) which can replicate data from an asynchronous system through a WAN and switch from one site to another in case of damage to the main site. In the virtual business environment, different solutions will be recommended according to expressed needs, and of course including solutions such as VMWare HA.
A constantly available virtualized infrastructure!
When virtualization is at the heart of infrastructure projects, risks linked with virtualized system downtime become a major issue for virtualization. With NEC Express5800/Fc and 320Fd Fault Tolerant servers, the virtualized infrastructure is totally secure and NEC commits itself to an unmatched level of availability.
NEC reinforces its positioning in the virtualized infrastructure domain and supports VMWARE 3.x as well as PARALLELS Vituozzo 4.0 solutions.
A messaging service that can withstand any test
With the support of Windows 2003 64bits, the NEC Fault Tolerant server ensures an unmatched business continuity for the Exchange 2007 messaging service.The messaging service is at the core of business activities, and is regarded as the most sensitive business application in the past few years. To opt for an NEC Fault tolerant server with an exchange 2007 messaging service, is to opt for performance, efficiency and piece of mind with no threats of unplanned downtime.
---
Vertical Approach
The demand for high availability and continuous IT system availability is directly linked to the activities of the business. In effect, NEC addresses high availability through business sectors.
Banks/ Insurance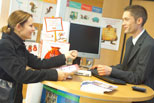 In the context of a global monetary organization, where handled data is sensitive and transactions are critical because they are often associated with financial transactions or client portfolio management, thus, high availability is a requirement in each instance. The management of operational risks (BALE2 Reform) is now an integral part of the business culture and has become tomorrow's issues for IT managers.
What will the financial impact be for a bank or an insurance company if its central system breaks down? Is there room for even 1 minute of downtime and risk losing data and transactions?

NEC brings forth these questions and adapts the response according to the specific needs of each sector.
Industry: Energy, automobiles…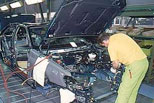 The operational chain of onsite or remote production, supply systems, supplier relations (SRM: Supplier Relationship Management) are complex systems which require high availability.

In effect, downtime of a link in the system could have drastic consequences, which can leave staff at a standstill, causing delays in deliveries, supplies, etc… How can the business continutity be managed at a remote site without an IT team?
In this instance, NEC proposes solutions with a level of availability which is unmatched on the market.
Industry: Construction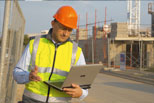 Construction companies owe their performance to good management- related sites, the supply of raw materials, team co-ordination, and operational mobility (foremen, etc…).

The question is how to respect the phase of development deadline without management of irreproachable supplies? The success of a site depends upon flawless intervention planning of various trades.
The effectiveness of these processes is tightly linked to the availability of data and associated systems.

NEC brings its expertise in this area by taking into account the functional and operational constraints of its clients. The accessibility of data and availability of core applications is at the heart of the strategy developed by NEC.
Services: Transport, logistics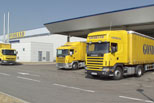 Transport or logistics businesses must give their customers a quality of service which includes product quality, respect of deadlines or timetables because the brand image is important. They are based on multi-site organizations or on mobile employees and the co-ordination and processes which are at the heart of the business. This is a response to hazards which may be diverse or varied (unavailability of an employee, traffic jams, weather, technical incident, etc…) in order to maintain a flawless quality of service. The traceability of trade and data and shares are also important when it comes to dealing with appeals or protests.
Furthermore, due to the price of fuel rising at different rates according to country, and where competition is difficult, access to information and data is paramount.

How can one justify a delayed plane due to an IT system failure to a client? What consequences would this present to a transportation company?... loss of credibility, direct financial losses (extended waiting times at the airport, customer reimbursements, etc).

Business applications and databases are at the heart of service business IT systems. NEC takes into account all dimensions in an economical context, sector issues- in order to propose adapted solutions for databases and business applications.
Services: Retail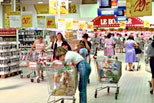 The challenge of big chain-stores, supermarkets and shopping centers is to have the right products, at the right price, at the right time. Supplier relationships, purchases, management of stock, management of personnel and associated processes are at the center of the daily challenges of these brands.

High availability of IT systems is therefore a constant requirement, especially when the system or business applications are managed locally, without a dedicated IT team.
What are the consequences of stock ruptures or the inability to access a computer? This can result in direct losses in unachieved sales and a loss of credibility in a very competitive domain.

For every need, NEC adapts itself to bring its clients the best adapted solution.
Data centers

At the time of "Cloud Computing" or development of new onsite IT services via the Internet or other private networks (ASP, SaaS, etc.), Data Centers are moving towards a totally virtualized environment in order to reduce infrastructure costs, space (physical consolidation) and energy consumption, in order to expand their IT infrastructure according to requirements and budget constraints. But quality of service is a central feature for production managers who are committed to a level of availability ( SLA: Service Level Agreement). Virtual systems and databases are deployed according to certain criteria; costs/ performance/ availability.
NEC responds to these concerns with a range of solutions adapted to critical applications, virtualized environments or not, but in every case to position itself as a strong player for Green IT.